Your Highlight is the HILITE s Pinion Gravel Allroad Titanium Bike
For us bikers, gravel bikes are the jack of all trades on the market. In combination with Pinion and Cinq Shift: R we make the least serviceable and most comfortable all-in-one solution on two wheels - the s Pinion Gravel Allroad Titanium Bike.
Thanks to the Cinq Shift: R, we can finally equip a titanium gravel bike with a Pinion gearbox without giving up on a component that is particularly important for gravel bikes - integrated brake shift levers. Ultimately, you can sprint in the underhand grip, take control of the slippery and steep curve while resting your hands on top of the lever or relax upright in the top grip - and always remain ready to brake - and shift. And with the Cinq Shift: R you don´t just stay ready for it, you can actually truly brake and shift at the very same time. All details about this sensational new development from Cinq can be found here.
But we at HILITE Bikes even went a step further with this development, because after all, we also want to stay safe and ready to brake in the upper grip. "Froglegs" was, therefore, another important criterion. The combination of the usually mechanical auxiliary brake levers with the hydraulic Cinq Shift: R presented us a few challenges, but in the end, we did it. How exactly, can you read here on our blog.
Another comfort factor is the belt drive from Gates, which provides you maximum efficiency with minimal wear and tear, while always remaining quiet and clean - clean here in the sense of free from oil or grease.
Because the s Pinion Gravel Allroad Titanium Bike really gets the best out of a gravel bike, you can, of course, venture airily into the next mud fight. Stones, dirt, and moisture cannot damage the gearbox or the frame. But of course, this piece of jewelry made of titanium also shines on the asphalt (literally). The s Pinion Gravel Allroad Titanium Bike can handle all surfaces - and with up to 600% gear range, it can also handle all inclines. You can find Pinion's official gear ratio calculator at the end of the article behind this link.
According to a gravel bike, the geometry is a bit calmer and more stable than an aggressive cyclocross for racing and hence ensures a comfortable ride even on longer tours, so there is nothing standing in the way of your bikepacking trip. And if you prefer classic touring, we have of course made provisions and equipped our frame with everything that goes with it. Two bottle holder eyelets on the seat and down tube, as well as a luggage rack and fender mount for front and rear. With a system weight of 140 kg, you are welcome to pack your bike decently.
And yet our s Pinion Gravel Allroad Titanium frame remains light as a feather. This is, of course, on the one hand, due to the material used, the titanium alloy 3AI / 2.5V and on the other hand due to what we do with it. We tailor the tubes to reduce the total weight and ovalize them at the most heavily loaded areas so as not to lose the necessary rigidity.
Our s Pinion Gravel Allroad Titanium Bike combines the best of different (bike) worlds and is, consequently, the most comfortable jack of all trades on the market - convince yourself.
The illustrated build of our s Pinion Gravel Allroad Titanium Bike is for visualization purposes. No matter what wishes you have, (almost) everything is possible, just send us an email to [email protected].
from 10.5 kg
650B and 28" possible
System weight 140 kg
3 CNC milled, elegant holders on the down tube for the cable routing
Sliding dropouts for easy adjustment of the belt tension
2 bottle mounts
Fender and rack mounts
Seatpost diameter 31.6 mm
Seat tube outside diameter 34.9 mm
Head tube inner diameter 44 mm
Headset ZS44 / 28.6 | EC44 / 40
Fork installation height 400 mm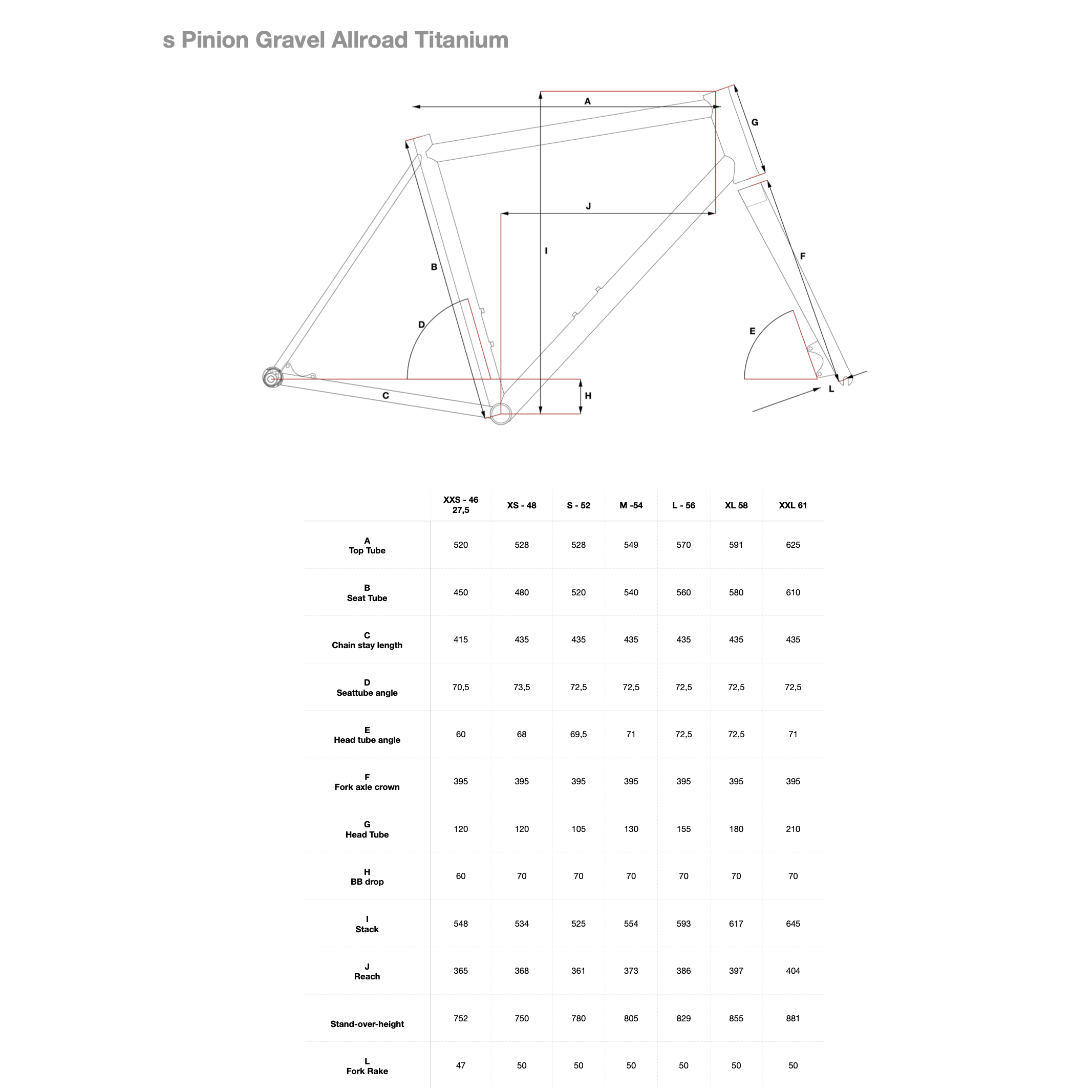 s Pinion Gravel Allroad Titanium Bike
SKU
s Pinion Gravel Allroad Titanium Bike