Your highlight is the HILITE s Gravel Allroad Titanium Bike
An ideal world would be something like this: You own a huge garage and there is the perfect bike for every purpose just waiting for you. An aero and an endurance road bike, that you select according to the terrain of the sunday lap with your friends, a full-fledged travel bike maybe even with an integrated luggage rack, a hub dynamo and a mudguard for the annual, larger bike tour with the family, an aggressive, agile cyclocross for the three races that are held every autumn in your area, an equipped winter bike that can withstand the salt and wet and that also protects you against those elements. Furthermore, a bike for your daily missions, which can deal with a curb from time to time and another bike that takes you across field and forest paths without having to come up with a suspension fork, and then that .. and that .. and that .., the list could go on forever - or simply be replaced!
With just one bike, the s Gravel Allroad Titanium Bike.
The s Gravel Allroad Titanium Bike is our answer to the thousand and one requirements that we, our customers and practically all bikers have on a bike, all packed in a single frame.
Our s Gravel Allroad Titanium Bike geometry compares to the s Pinion Gravel Allroad, however, as the name suggests, without the Pinion gearbox. Abstaining from integrating the Pinion gearbox into this bike not merely has a positive price effect, but above all ensures that you can quickly and easily switch between different wheelsets and, of course, different cassettes, i.e. translations. Thanks to the extra-wide seat- and chainstays, paired with a wide fork, you and your tires will always have enough freedom. An assembly with 650B is also possible so that you can build the s Gravel Allroad Titanium Bike even with smaller wheels by diameter, but use much wider tires up to 50 mm from the mountain bike segment in return. Or really thin tires on 28" rims for your everyday racer, whereas no one goes below the 21 mm these days anyway. No matter which setup you want to ride, this bike is ready for it. Save on maintenance and acquisition costs - without sacrificing the most important thing, driving pleasure.
Driving pleasure will not only arise from the versatility of the s Gravel Allroad Titanium Bike, but also from the short chainstays, which will shoot you lively and agile through any terrain. The sloped top tube makes the frame stiffer and at the same time increases the comfort due to the longer, and therefore more flexible, seat post. With oversized and ovalized tubes, we get the frame particularly stiff at precisely the places where most of the load is located. But don´t worry, larger pipes do not necessarily mean the frame gets heavier, as the wall thickness of the pipes is adapted to the load, i.e. butted. More information about this here.
Thanks to this design, our sleek s Gravel Allroad Titanium Bike still has a system weight of up to 130 kg, which is enough for rider and also bikepacking. Or of course, classic touring, after all, our gravel bike should ultimately be as versatile as possible and accordingly comes equipped with all the necessary eyelets for mudguards, bottle holders and luggage racks. In case you are looking for a luggage rack, check out the beautiful s Carry Titanium rack, designed by us, please. 
With the s Gravel Allroad Titanium Bike, you choose a high-quality, yet inconspicuous bike that is as varied as the streets and paths on your doorstep. Come to Basel and try it out.
The illustrated build of our s Gravel Allroad Titanium frame is for visualization purposes. No matter what wishes you have, (almost) everything is possible, just send us an email to [email protected].
from 10.5 kg
Frame weight 1500 g (for RH 54)
System weight 130 kg
28 " and 650B possible
40 mm tire clearance at 28 "
50 mm tire clearance at 650B
3 CNC milled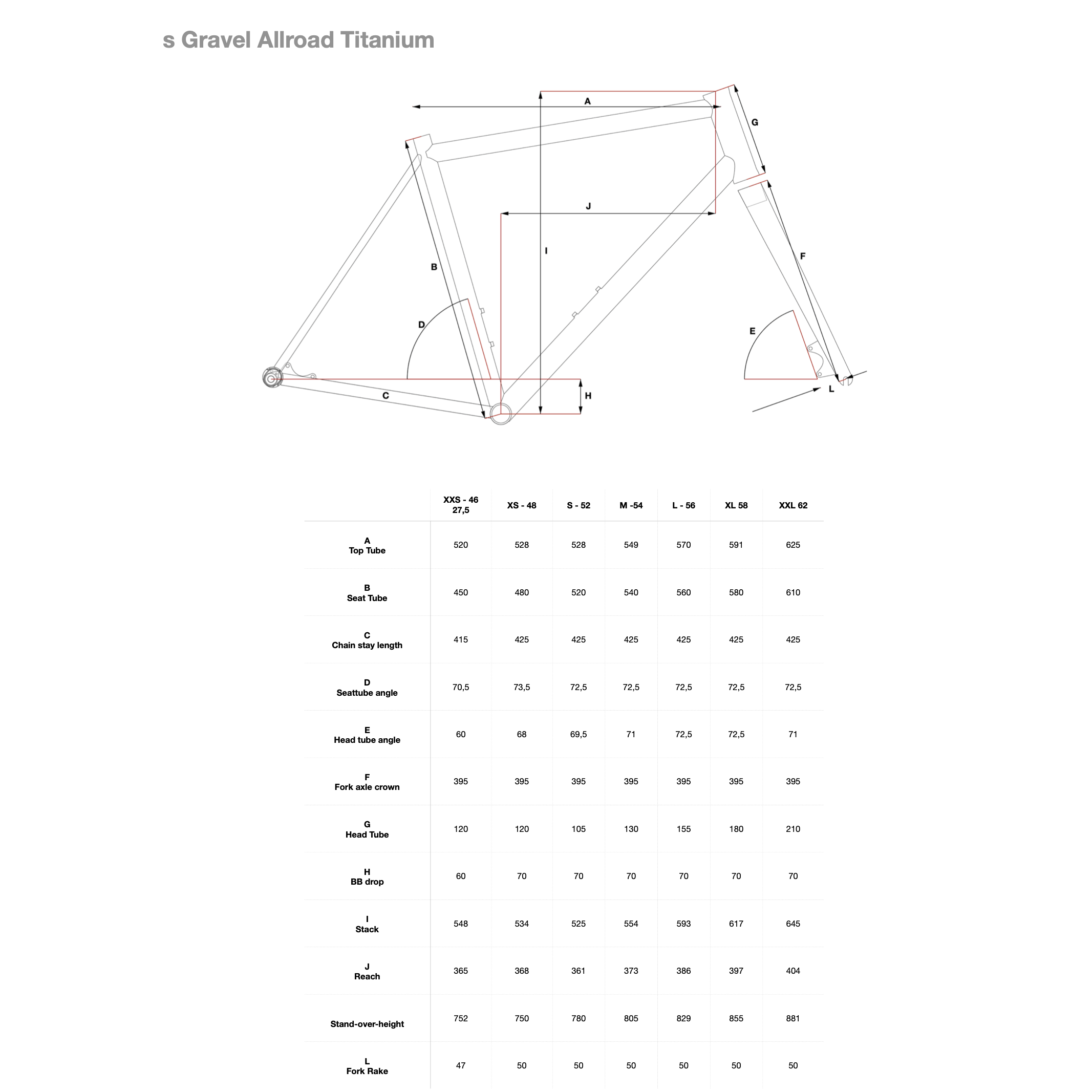 s Gravel Allroad Titanium Bike
SKU
s Gravel Allroad Titanium Bike