Your highlight is the HILITE s Race Road Titanium Bike
Unobtrusive, subtle, chic - the classic values ​​of a titanium racing bike. And that's exactly what we wanted to transport with our s Race Road Titanium Bike, and of course you - as quickly and yet as comfortably as possible.
These two goals are the classic adversaries in frame construction since the teaching promises that the stiffer the frame, the higher the efficiency with which your pedal energy can be transmitted into forward motion. At the same time, stiffness does not necessarily increase comfort, because then every bump has to be swallowed by your body instead of the frame. So maximum flexibility would be better here to increase comfort. Our numerous years of experience in frame construction not only teaches us that the stiffest frame is of no use when people get tired of cycling more rapidly but also at which points a frame should unfold in which of the two directions to get the best possible tradeoff between comfort and stiffness. And this perfect tradeoff has been met with the s Race Road Titanium Bike.
The chainstays connect the place of power generation, the bottom bracket, with the place of power development, the rear wheel. So maximum stiffness is required here, which we achieve by 1 inch thick, straight chainstays. The rear hub and the seat tube are connected by the seat stays. All vertical forces, i.e. all bumps on the road, are transferred directly to your saddle here. Therefore particularly thin tubes are used here to increase flexibility. These also attach to the seat tube a few centimeters below the seat clamp. This measure and the sloping top tube ensure that the seat tube and seat post are as long as possible and therefore have as much freedom of movement as possible, i.e. flexibility. At the same time, the sloping top tube, in turn, reduces the frame triangle, thus increasing the rigidity of the entire frame. The slightly longer head tube reduces the elevation between the saddle and handlebar, which also has a positive effect on sitting posture and comfort.
Regardless of the pipe dimensions, these are consistently butted to save unnecessary weight and ovalized at the appropriate points to further increase the rigidity.
As a real classic, the s Race Road Titanium Bike comes with a screwed BSA bottom bracket and an open cable routing on the down tube by default. The bottom bracket and of course all other attachments can be customized to your needs.
Otherwise, our perhaps most elegant piece made of titanium impresses with its mixture of rigidity, lightness, and comfort. Come to Basel for a ride with us and try the s Race Road Titanium Bike yourself.
The illustrated build of our s Race Road Titanium frame is for visualization purposes. No matter what wishes you have, (almost) everything is possible, just send us an e-mail to [email protected].
from 6.5 kg
Frame weight 1500 g (Size 54)
Tires up to 28 mm
Cable routing outside
Breezer dropout
Seat post diameter 31.6 mm
Seat tube outer diameter 34.9 mm
Head tube inner diameter 44 mm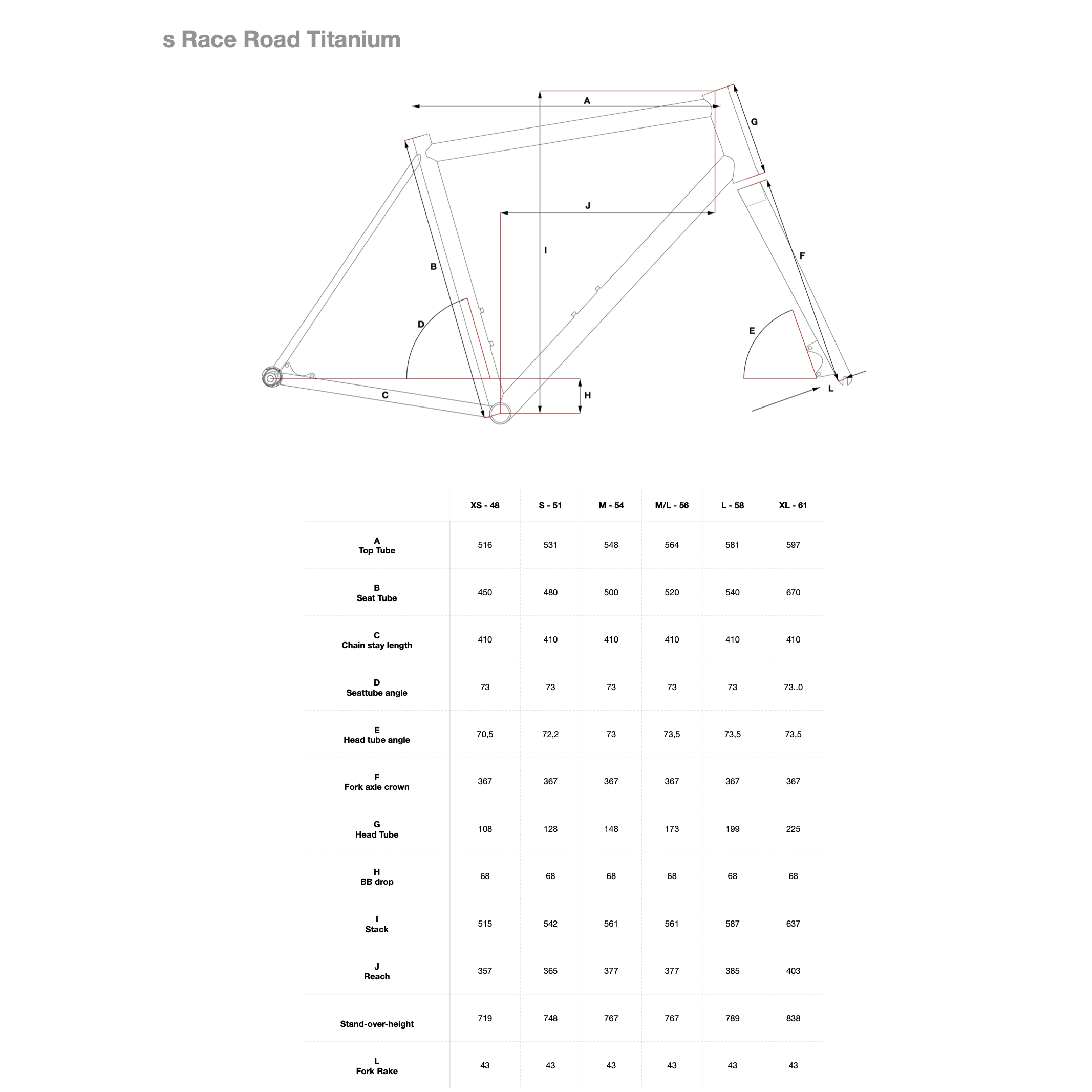 s Race Road Titanium Bike
SKU
s Race Road Titanium Bike