Your highlight is the HILITE s Pinion Hardtail MTB Titanium Bike
Our s Pinion Hardtail MTB Titanium Bike is your carefree mountain bike for every terrain. The s Pinion Hardtail MTB challenges you off-road, gives you the stiffness you need uphill and lets you feel the trail downhill - it´s a pure driving pleasure.
No matter what slope you want to take on your ride, our frame accommodates every gearbox from Pinion and thus provides you with a gear range of up to 600%
(you can find the original Pinion gear ratio calculator here). Uphill and downhill you will pedal past all derailleur MTBs with a relaxed smile. Another positive effect of the transmission? Less oscillating weight on the rear wheel and a more central, lower center of gravity of the frame provide you with incredible responsiveness and safe handling. The s Pinion Hardtail MTB Titanium Bike promises you stability in any situation - whether its 3 seconds of airtime or 3 hours of climbing on the steepest ramp. And since everything is nicely packaged and securely seated in the bottom bracket, you no longer need to worry about weather influences or stone chippings. Almost nothing can harm the Pinion gearbox. That is also why a minimum of maintenance is sufficient - an oil change every 10,000km.
But the Pinion gearbox is not the only reason that makes the s Pinion Hardtail MTB Titanium Bike your new carefree bike. But thanks to the Pinion gearshift, we can equip the bike with a center track belt drive from Gates. The always straight chain line is not only extremely efficient and quiet but also eliminates wear and is therefore practically maintenance-free. And the material of the frame itself is - especially for the fall-prone mountain bike area - ideal. Titanium is much more resistant to forces than aluminum or carbon and even if it cracks, it can always be repaired. By the way, titanium doesn't rust, so you buy a durable bike whose material never tires. (Here you can get more information about titanium for bikes)
But of course, we at HILITE Bikes also don't want you to get tired while riding. That's why we swear by Titanium. Titanium flexes more and therefore provides you with the most convenient seating comfort of a hardtail. Our frame also provides you with the greatest possible freedom for another important comfort element of every bicycle, the tire - and that means the greatest possible tire (freedom). Tires up to 2.4" width fit in our s Pinion Hardtail MTB. Take advantage of this touring suitability of frame and material and combine our bike with our HILITE luggage rack. Together, this bike not only brings you comfortably and successfully through any terrain but also your luggage.
We have modified the classic hardtail geometry for our s Pinion Hardtail MTB titanium bike in the steering angle. It´s a bit steeper and therefore reacts more agile to your steering movements. The resulting tendency to flutter is in turn contained by the central weight distribution and the particularly high rigidity. By using conifed and ovalized tubes, we can better distribute the load at the appropriate places and thus get a stiff and stable frame with a low weight. (More information on pipe shapes and diameters are available here and here.)

The illustrated build of our s Pinion Adventure frame is for visualization purposes. No matter what wishes you have, (almost) everything is possible, just write us at info @ hilite -bikes.com
650B and 28" possible
Tires up to 2.35"
Disc brake up to 180 mm
Post Mount
3 CNC milled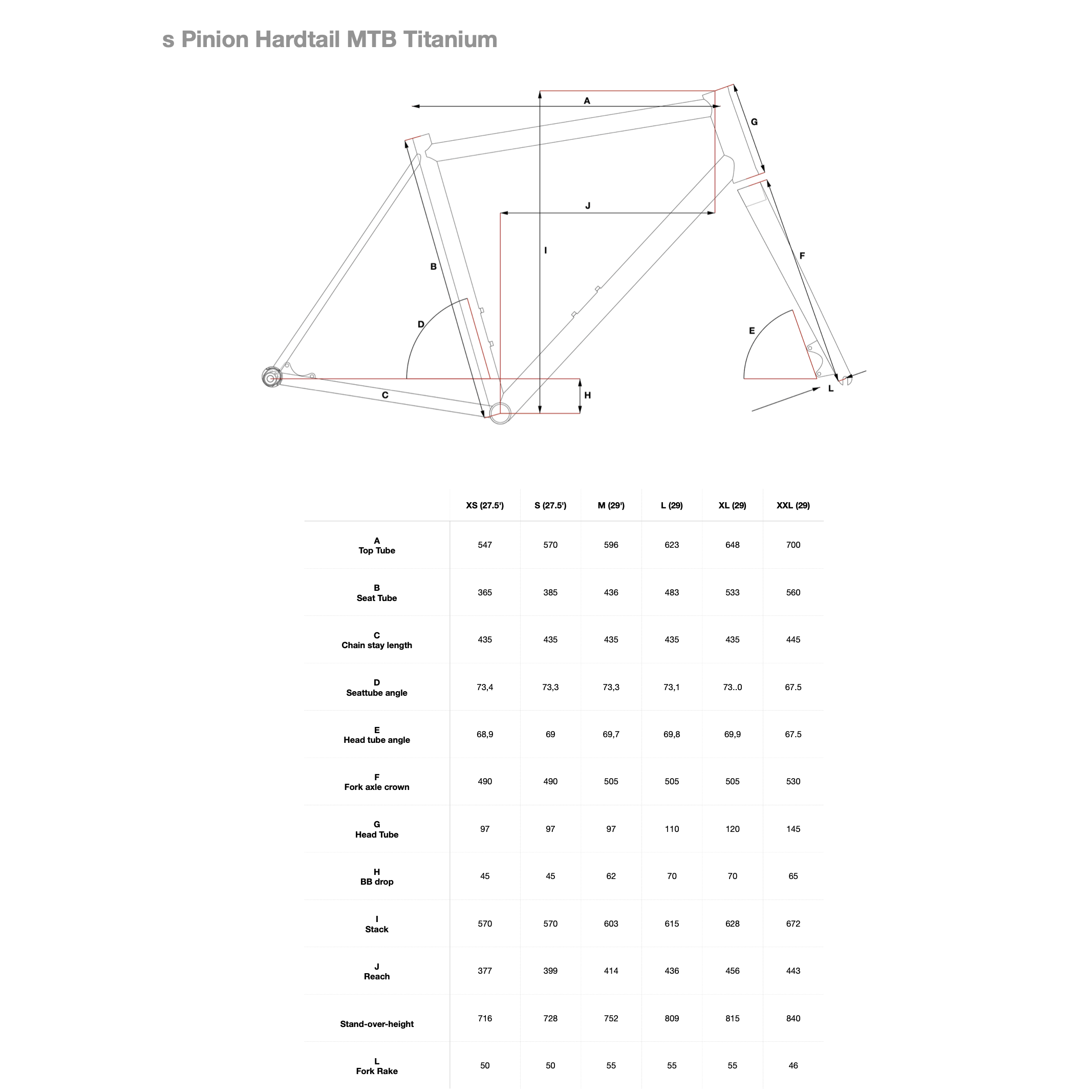 s Pinion Hardtail MTB Titanium Bike
SKU
s Pinion Hardtail MTB Titanium Bike