The s Pinion Classic frame is our evolution of the first tribute we made to the Pinion gearbox. In contrast to our s Pinion, the first series travel frame, for the s Pinion Classic we use titanium tubes with a slightly smaller diameter. As a result, the bike not only looks slimmer and more elegant, almost like a steel frame, but it is also lighter. In addition, the frame is less stiff, so there is more flex and it therefore offers more ride comfort with the same robustness. When using our titanium seat post, the comfort can be increased furthermore. In combination with the pinion gearshift and the belt drive of Gates Carbon Drive you get a truly low-maintenance bike. Tires up to 622-55 can be installed. We recommend the 50 or 55 mm wide Schwalbe Marathon Almotion tires for more traction and comfort. The other specifications of the frame s Pinion Classic correspond to the s Pinion. The chainstays are designed for long distance cycling and thus slightly longer for more heel freedom. The enlarged wheelbase of the s Pinion Classic titanium frame ensures smoother running. The s Pinion Classic frame is also CDX - Beltdrive Ready with an existing frame lock. The bottom bracket sits nicely low for a comfortable ride on a 29 ".
The s Pinion Classic frame is individually configurable and can be delivered within 2-3 weeks. Contact us if you would like a specific build. Please have a look at our Titanium Gallery for inspiration.
Your advantages when purchasing the s Pinion Classic compared to a titanium frame? The following frame options are included here for the same basic price:
- Handlebar stop (otherwise 150CHF)
- movable 3D dropout (otherwise 250CHF)
- frame lock for the belt (otherwise 250CHF)
- head tube ZS44, 50mm OD (otherwise 150CHF)
In addition, you get the s Pinion Titanium fork at a bargain price:
- Titanium fork quick release, Schmidt SL option: 500CHF
- Titanium cable 15mm / tapered: 750CHF
Comfort-oriented frame geometry
Made of 3AL / 3.5V titanium
Headset Inset 44mm
High strength forged Pinion bridge made of Ti
Proprietary Sliding Ti 3D dropout
Fork feed (mm): 45
Fork height (mm): 420
Chainstays (mm): 463
Bottom bracket lowering (mm): 80
Max. Tire size: 55-622 (28 x 2.10)
Seatpost (mm): 27.2
Use of DT Swiss and Chris King FunBolts
Direct mounting stand: 40mm standard
Frame / fork set up to 170kg approved
3 bottle holder mounting options
Screwed cable connections on the down tube
Frame weight: from 1880gr.
Brushed frame with sandblasted HILITE logo on the down tube
Framework Warranty: 5 years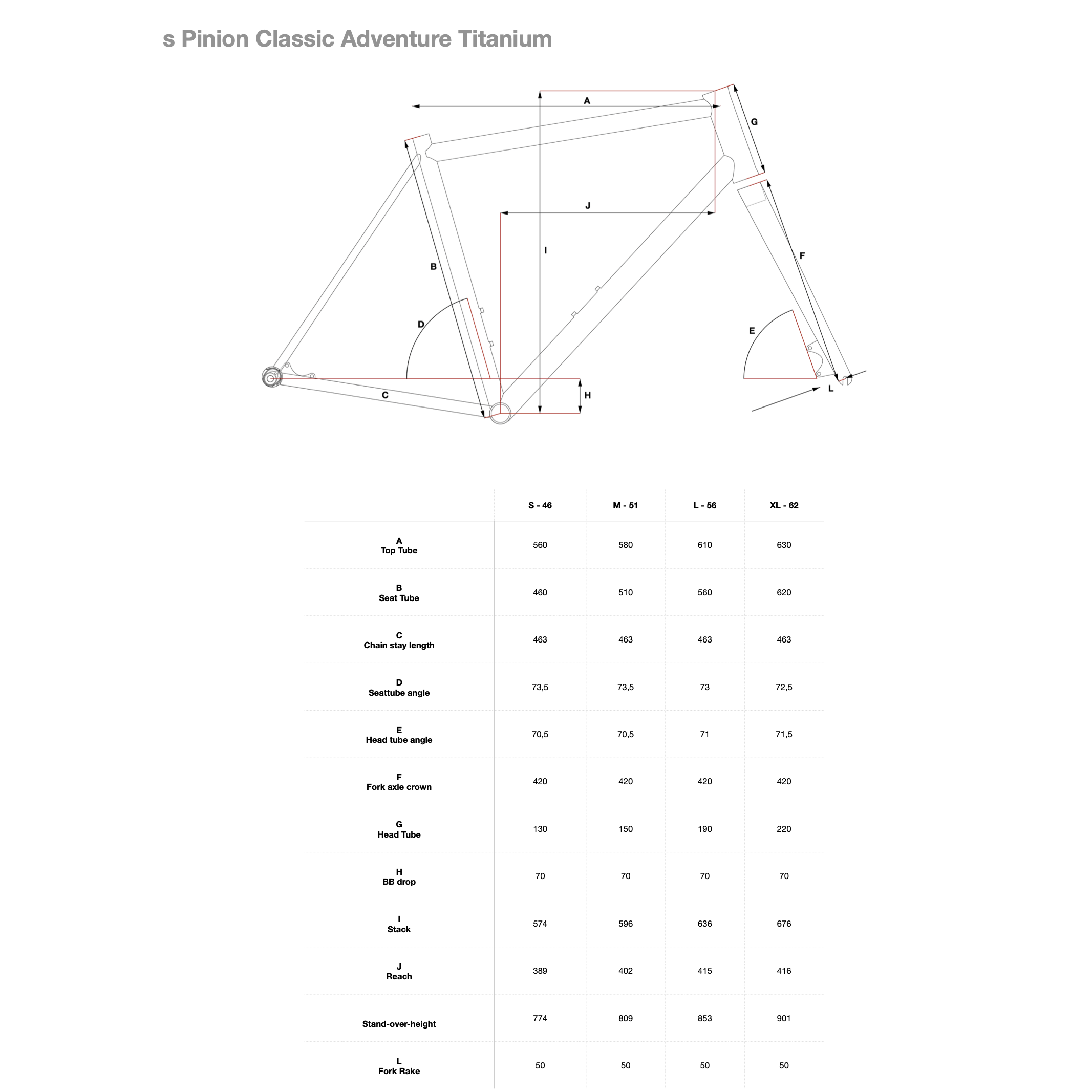 s Pinion Classic Adventure Titanium frame
The s Pinion Classic frame is our evolution of the s Pinion frame. Thinner tubes provide more flex and ride comfort, a few grams less and a slimmer appearance.
SKU
s Pinion Classic Adventure Titanium frame