Your HILITE is the HILITE s Adventure Classic XT Titanium Bike
The s Adventure Classic XT is our off-road titanium touring bike for those who like to pedal with a classic look and do not want to sacrifice the greatest possible comfort for this. At the same time, this bike is built with well-known components that can be replaced quite well - should it come so far - due to their good availability, even in the remote corners of this world. By using a Shimano Deore XT group, however, not only does the revisability increase but also the price drops significantly compared to our Pinion & Rohloff - models, so this bike represents a wonderful entry into the world of our high-quality touring bikes.
The geometry of our titanium tourer is inspired by classic touring bikes, such as the Papalagi 853, which means we chose a slightly more elevated fork as well as a bigger head tube for more comfort on long tours. The long chainstays support you in cycling a steady straight line. The tubes are slightly thinner than usual. Thus, we increase their flexibility and at the same time reduce the total weight of the frame to 1.6 kg. We also pay attention to a lot of flexibility in the saddle by using a 27.2 mm titanium seatpost. If desired, the comfort here can be further increased by the Kinekt 2 seatpost.
In turn, we achieve extra stiffness through the wheels plus. Here, of course, we use 12 mm thru-axles and the new Booster axle size of 148 mm. The frame can be built both with 28 " and with 27.5 " and offers in both cases a tire clearance up to 2.25 "(front & rear). As a bottom bracket, a screwed BSA comes in use.
The Deore XT groupset promises an extremely large overall ratio thanks to 3x10. The crank turns with teeth between 48, 36, and 26, and the 10-speed cassette with 11-36. The permitted system weight of 160 kg can therefore be moved uphill easily every climb, with up to 180 mm large Postmount disc brakes the same weight can also safely brake down any descent and with the 40 mm direct mount stand from Hebie you may also park your bike in a relaxed way.
We like to lay the cables on our touring bikes outside. This allows for gorgeous radii and the effort required to shift gears is thereby significantly reduced. In addition, the maintenance effort is significantly reduced as well.
We have been hand-spoking our wheels for years, and this bike is no exception.
Our optional light package consists exclusively of Schmid components. The hub dynamo is currently the best available on the market. Niedriges Eigengewicht und hoher Wirkungsgrad zeichnen ihn aus und leuchten deinen Weg zuverlässig aus.
Also optional is the mounting of a lowrider, so you can not only take more luggage but also better distribute the weight. 
The illustrated build of our s Adventure Classic XT Titanium frame is for visualization purposes. No matter what wishes you have, (almost) everything is possible, just send us an email to [email protected]
from 11,5 kg
28" & 27,5" 
Tires up to 2.25
System weight 160 kg
3 CNC machined, elegant holders on the down tube for cable routing
3 bottle cage mounts
Direct mount stand
Head tube inner diameter 34 mm
Headset EC34/28.6 | EC34/30
Mounting height fork 430 mm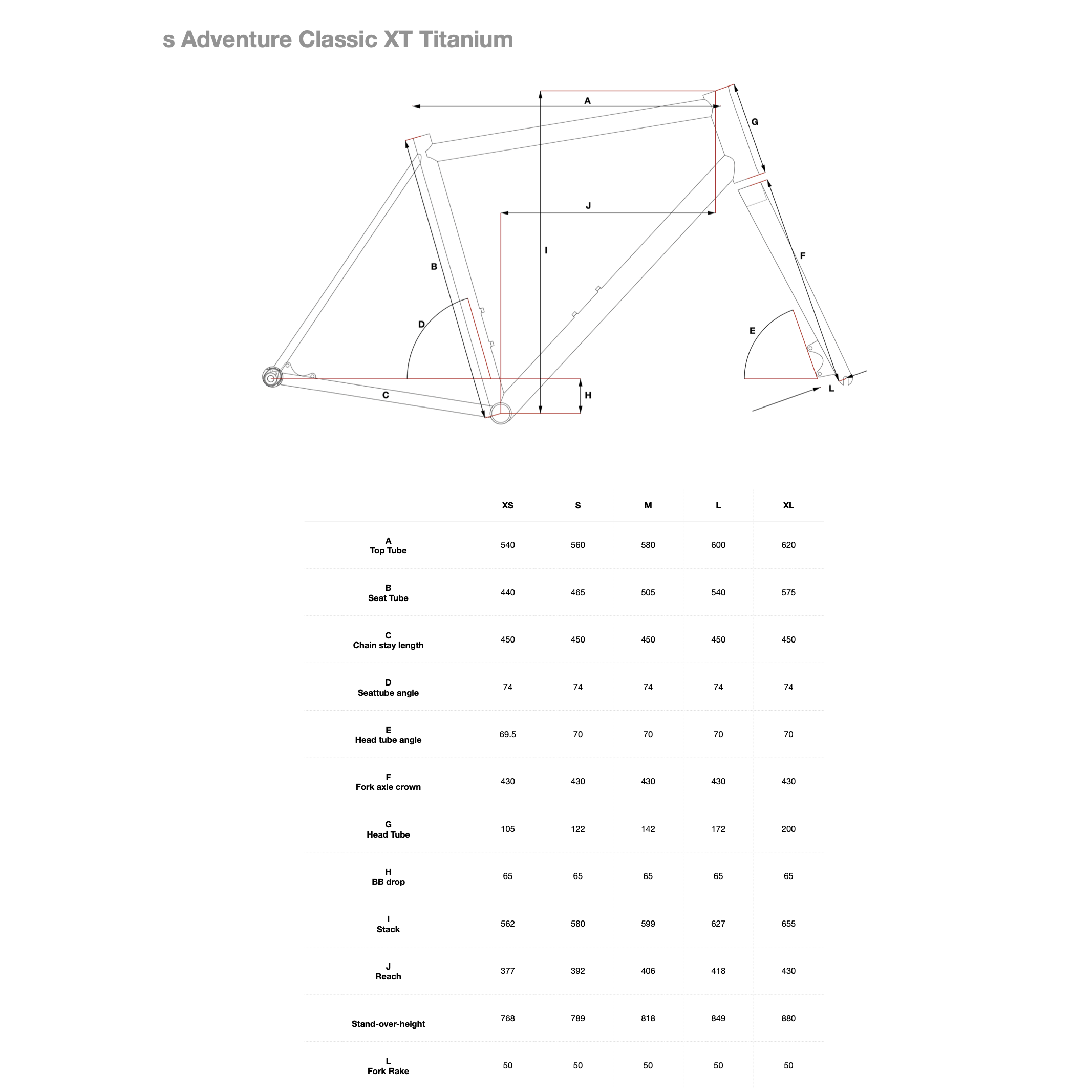 s Adventure Classic XT Titanium Bike
SKU
s Adventure Classic XT Titan Bike