Unser s Pinion Adventure Titan e Bike mit dem Gates CDX Riemen kombiniert das perfekte s Pinion Adventure Bike mit dem leistungsstarken Maxon Nabenmotor. Ein E-Bike Pedelec erfreut sich auch bei uns immer größerer Beliebtheit. Das Getriebe kann aus den zahlreichen Möglichkeiten von Pinion ausgewählt werden. Wir empfehlen das Pinion C1.9 Getriebe für unser e Bike, da eine feinere Abstimmung aufgrund der Motorunterstützung nicht wirklich notwendig ist.
HILITE Bikes verbaut das E-Bike System des Schweizer Herstellers Maxon. Ausschlaggebend für den Heckmotor sind mehrere Gründe: Hinterradmotoren stehen für starke Beschleunigung, hohe Elastizität, Laufruhe und starke Leistungsreserven. Mit einer Nennleistung von bis zu 500 Watt (Spitzenleistung von ca. 1.000 Watt) und 60 Nm Drehmoment setzt Maxon Maßstäbe im direkten Vergleich zum Mittelmotor. Außerdem wirkt die Kraft dort, wo sie am besten wirkt, und zwar direkt auf die Hinterradnabe unter Schonung des Antriebsstranges. Ohne Umwege. Und ohne unnötigen Antriebsverschleiß perfekt mit dem Pinion-Getriebe kombinierbar.
Volle Systemintegration: Motor und Drehmomentsensor sind in einem hochstabilen verschraubten Aluminiumgehäuse optimal geschützt. Alle Motoren verfügen über eine integrierte Steuerung, in der der Drehmomentsensor berührungslos, wartungsfrei und ohne externe Sensoren arbeitet. Es ist bürstenlos und hat einen geringen Leerlaufwiderstand.
Die Bilder zeigen einen früheren Aufbau mit einem anderen Antrieb. Bilder der aktuellen Version folgen im Juli.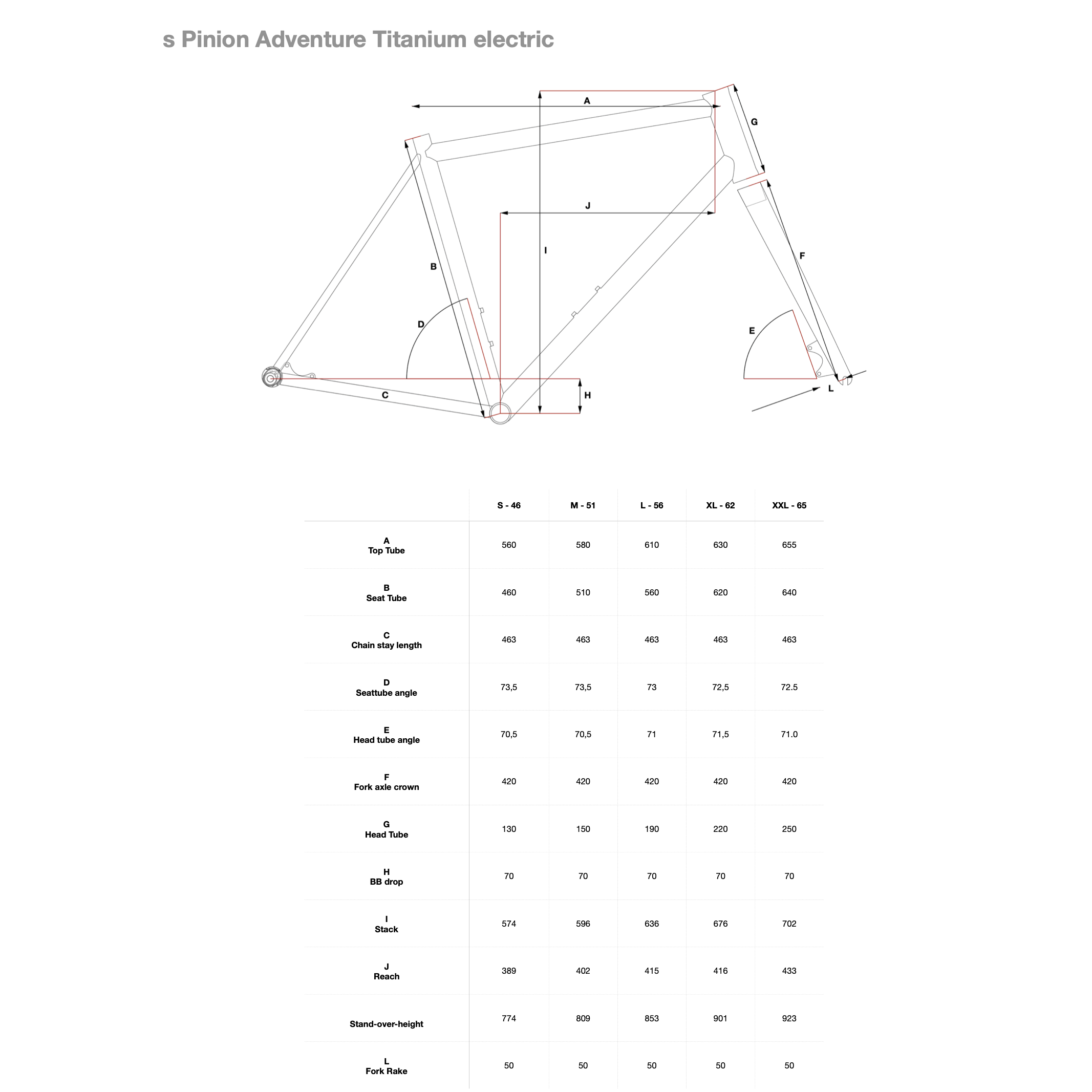 s Pinion Adventure Titan e Bike
BOX AND GATES CDX BELT, THIS E-BIKE PEDELEC IS EXTREMELY DURABLE AND RELIABLE.
Our clean Titanium Pinion E Bike Pedelec with the Gates belt combines the perfect sPinion bike with the extremely silent and powerful GO SwissDrive hub motor
SKU
s Pinion Adventure Titanium electric Bike